The second European Economic Conference organised by the F.A.Z., held on June 14th and 15th at the ESMT in Berlin and co-initiated by United Europe, focused on the economic transformation of Europe. Esteemed speakers engaged in discussions over the course of two days, addressing crucial topics such as achieving a climate-friendly transformation of the economy and society amidst inflation, mitigating the loss of prosperity, and exploring strategies to reduce reliance on vulnerable supply chains.
Guests included, among others,  Lars Klingbeil, Chairman of the SPD, Member of the German Bundestag, Dr Robert Habeck, Federal Minister for Economic Affairs and Climate Protection, Dr Magnus Brunner, Minister of Finance of the Republic of Austria, Dr Daniel Risch, Head of Government of the Principality of Liechtenstein and Günther H. Oettinger, President of United Europe.
All speeches and panel discussions can be found at the following link (in German language). Please find attached brief summaries of individual speeches and statements from some panel discussions.
Lars Klingbeil, Chairman of the SPD, Member of the Bundestag: Introductory Keynote: Politics in Times of Constant Change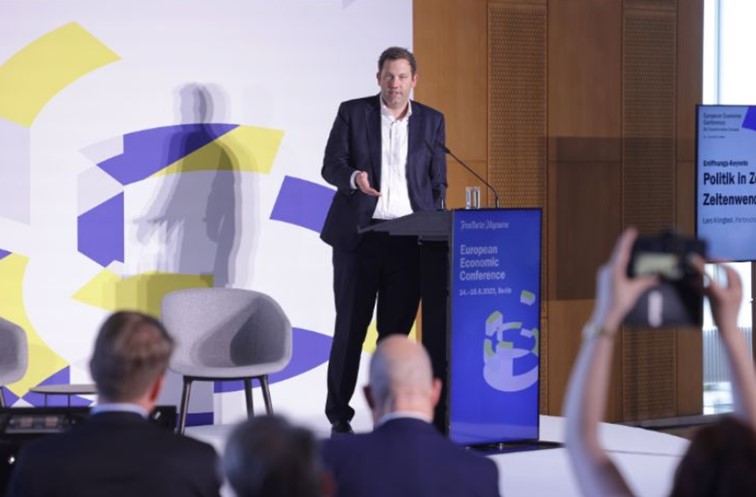 The transition to a climate-neutral and digital society is the most important socio-political project of the coming years.
We have to recognise that the world is in upheaval, that new centres of power are emerging and that the rule-based order as we know it is under pressure. A strong Europe is one of the most important aspects if this transformation is to succeed.
Nevertheless, the forthcoming decade or two will likely be marked by significant turbulences, requiring us to navigate numerous challenges. It is crucial to acknowledge that Europe does not hold sole responsibility for driving this process. Rather our focus should lie on fostering resilient supply chains, harnessing resources efficiently, and establishing novel free trade zones. In Europe, we must understand that this transformation is not only an economic endeavour but rather a political undertaking.
China is pursuing a tough, state-controlled industrial policy; in the US, too, we see massive state intervention in economic policy with the Inflation Reduction Act. Europe has long shaped global economic policy; now we need a new interplay of state and market, a policy along the broad lines of decarbonisation, digitalisation and resilience. New goals need to be agreed upon at the European level. Not "Europe first", but "Europe fast.". We must expedite planning procedures and implement smart regulations while avoiding excessive centralization at the European level. The current fragmentation of the single market necessitates a focus on deepening its integration. This involves realizing the potential of a digital union further developing capital markets, completing the banking union, and establishing a European energy union with enhanced grid and storage capacities. Moreover, we should actively pursue new free trade agreements and increase investment in strategic partnerships.
See the full speech here.
The Political Interview with Dr Robert Habeck, Federal Minister for Economic Affairs and Climate Action and Gerald Braunberger, Publisher, Frankfurter Allgemeine Zeitung
For Europe to maintain its competitiveness and prosperity, tangible solidarity in infrastructure is essential. The European Commission holds a pivotal position in this regard, as Europe demonstrates its resilience under pressure. When it comes to the green transition, Europe exhibits a collective commitment, despite its diversity as evident in initiatives such as the Green Deal, the ongoing Fit for 55 negotiations, and the implementation of ETS1 and ETS 2.
Regarding European Competitiveness, the American "Inflation Reduction Act" is viewed as a declaration of war. Countries like the United States and others are making investments despite their significant national debts, setting them apart from Europe on a global scale.
Non-European nations such as the US and South Korea are actively pursuing investments in solar and hydrogen energy. If we fail to keep pace with these developments, we risk losing out on the opportunities they present. Europe's commitment to fiscal discipline aligns with the fundamental principles of a market economy which is commendable. However, in sports like football or handball, if the opposing team plays aggressively and the referee fails to enforce the rules, victory becomes elusive. Nonetheless, despite the slightly pessimistic sentiment, recent years have demonstrated Europe's true capabilities.
If we can address the energy crisis, we can also confront the climate crisis and achieve our targets. While we may not have reached that point just yet, we possess the potential to do so. Cultivating a positive outlook is crucial in combating internal divisions. Otherwise, the voices that don't want a solution will win, and then there will be no solution.
Please find the full interview here.
Strengthening Europe's Energy Supply – Focus on Competitiveness
A panel with Sven Astheimer, Head of Corporate Affairs, Frankfurter Allgemeine Zeitung, Prof. Dr Lion Hirth, Professor of Energy Policy, Hertie School, Dr Markus Krebber, Chairman of the Executive Board, RWE AG, and Christian Kullmann, Chairman of the Executive Board, Evonik Industries AG.
Sven Astheimer: How competitive is Europe?
Christian Kullmann: The statement suggests a rhetorical question, implying that Europe's competitiveness is currently lagging behind. Two examples can be provided to support this claim: 30% of sales are made in the USA, where the cost of a kilowatt hour is 1 to 2 cents. Meanwhile, in Germany, discussions are underway to implement an industrial electricity price of about 6 cents per kilowatt. We are talking about 6 cents, and we deliberately do not mention that there will be taxes and levies on top of that. Thus, the focus should not be on whether Europe is competitive, but rather on the necessity of implementing significant changes.
Sven Astheimer: What specific commitments can you offer to enhance our competitiveness in the future?
Dr Markus Krebber: Europe needs to consistently compete with non-green energy supply policies. Such competition hampers Europe's competitiveness and emphasizes the importance of considering climate protection as a global consensus that involves all regions.
Sven Astheimer: Is the German government on the right track with its energy and industrial policy?
Prof. Dr Lion Hirth: The price of energy is crucial. Currently, subsidizing electricity with taxpayers' money means that the funds are missing elsewhere. This is a question that needs to be decided politically. What should the price of electricity be? The energy-intensive industry will have to adapt, i.e., utilize electricity when wind and solar power are available. However, this is not possible if energy-intensive companies require electricity constantly, regardless of fluctuating prices. The mistake we should avoid is using an industrial electricity price to make companies believe that the electricity price will remain at 4, 5, or 6 cents, thereby reinforcing the outdated notion of permanently operating base load plants. If we aim to support the industry, we must embrace industrial flexibility, which will vary across sectors and is not free.
See the full discussion here.
Günther H. Oettinger, President of United Europe: The opening impulse of the 2nd conference day:
Peace, values, economic strength – an Agenda 2030 for Germany and Europe
Next year is set to be a pivotal moment for both European and US politics, as it will be a super-election year that shapes the tone for the entire next decade. Currently, we are witnessing diverse trends across Europe. On one hand, conservatives are maintaining or even strengthening their positions, – as evident in Greece and possibly Spain. There is also a possibility of populist movements gaining ground. To approach the European elections seriously, it is crucial to strengthen democratic parties rather than resorting to protest votes on either extreme. Unfortunately, Europe is lagging behind.
Germany is anticipated to experience a year of recession and stagnation all year, while the world is growing at a rate of 3 or 4 percent, and Europe is falling behind. This issue revolves around competitiveness: if we fail to reinforce our strengths and address our shortcomings, Europe's influence and authority will decline. We must also establish a technological advantage in key areas such as defence, mobility, communications and engineering. Regrettably, I observe insufficient collective efforts to preserve and restore our position, particularly in Germany. The country index by ZEW, commissioned by the Foundation for Family Businesses, has shown that Germany has dropped from 14th to 18th place among 21 democratic industrialized countries. That's not the Champions League.
There appears to be a lack of recognition that innovation is essential for sustained prosperity.
The upcoming US election in November carries the possibility of Trump returning to power. We must hope that the voters will protect us from that outcome. The question arises: Are we capable of global politics? Can we speak with a unified voice? We are far from prepared, but time is running out. If Trump is reelected, the focus will shift to America First, rather than the transatlantic partnership, NATO, the global economy, or the rules-based order. It disappoints me to see a country spending months debating thermal energy legislation and neglecting crucial aspects of the German discourse on Europe's future. We are consistently lagging behind. Germany must finally realise the significance of t trade agreements. If we had not opposed TTIP due to concerns about chlorinated chicken, the Inflation Reduction Act would not be detrimental to the German industry. We have put the Mercosur agreement, the fastest-growing market after Asia, on hold. RCEP poses a significant challenge, and if it becomes the benchmark, Europe will be left behind.
We must learn at an accelerated pace and draw clearer conclusions. Europe is sluggish, and Germany in particular is moving too slowly.
The next year will determine the direction of European policy, and three conceivable trends emerge. Firstly, there could be a left-liberal, green and socialist majority. Secondly, we might witness the formation of another significant Labor coalition. Lastly, a conservative development is possible, but it is unlikely without populists holding a majority position. The question remains: Where is populism still considered acceptable, and where is radicalism, anti-Europeanism, malice or even contempt for all values or the destruction of Europe as genuine objectives? Consider the AFD and Le Pen.
I implore all of us to generate interest n the European elections. Failing to maintain and enhance prosperity will only fuel the rise of extreme ideologies from both the right and left.
See the full speech here.
Panel – Beyond the Boys' Club: Why Diversity in Leadership gives Europe a competitive edge and how we get there
Under the chairmanship of Johannes Pennekamp, Head of Department, Frankfurter Allgemeine Zeitung, Regine Büttner, Global Board Member Human Resources for DHL Express (until 2022), member of the Supervisory Board and founder of the FEM Factory, Tanja Gönner, Chief Executive, BDI e. V., Elke Heitmüller, Head of Group Diversity Management, Volkswagen AG and Dr Miriam von Loewenfeld, Programme Director of the Female Leadership course at the University of Applied Management and founder of the FEM Factory discussed the following issues.
Johannes Pennekamp: How can diversity succeed in companies, how can a business strengthen itself? Every second Dax board member is female, but there are still 700 men for every 100 women.
Tanja Gönner: The question of intervening in regulations is not an easy one for the German economy. If I look across the board, there are too few women in management positions in companies. There are conflicting goals here; for every woman, a man has to take a back seat. It is also unpleasant for the women, very few want to be reduced to the quota. Here we have to talk about striking the right balance.
Elke Heitmüller:  The representation of women in technical professions remains relatively low, but there are gradual signs of change. Over the past years, the establishment of a women's network comprising 800 members through mentoring programs is a notable development. Importantly, half of these women are determined to continue advancing their careers. Diversity is valuable especially companies must strive to incorporate both male and female perspectives. By embracing diversity, we can benefit from a wide range of viewpoints. Achieving gender parity in executive selection committees is a necessary step towards this goal. It is important to recognize that women and men bring distinct perspectives, and it is by integrating these perspectives that we obtain a comprehensive and holistic understanding. Rather than opposing one another, it is a collaborative synergy that enables us to attain a complete picture of the situation at hand.
Regine Büttner: The importance of prioritizing diversity has not been fully recognized to the extent it should be. . Both in Europe and globally, we are falling behind in terms of establishing the necessary infrastructure to support women, enabling them to aspire to and pursue positions of leadership. Unfortunately, women often disengage from companies during their journey towards top management.
Dr Miriam von Loewenfeld: To address the existing challenges, it is imperative that we establish a robust women's network and ensure the presence of well-functioning infrastructure. This is particularly crucial in regard to providing sufficient spaces in Kitas (Kindergartens). Currently, there is a shortage of 400,000 places in Germany. It is anticipated that this number will further escalate in the future, due to the ongoing scarcity of skilled workers.
See the full discussion here.
The young economy as a driver of the future: Laura Jorde, Federal Managing Director, Wirtschaftsjunioren Deutschland e. V.
According to recent surveys, a significant majority of young executives – specifically two out of three – harbour pessimistic sentiments when contemplating the future of Germany as a favourable business location. Their apprehensions primarily revolve around the prevailing concerns of excessive bureaucracy, a scarcity of skilled workers, and the burden of labour costs. These disheartening statistics have left many bewildered. Why? Because, throughout various crises, ranging from the impact of the pandemic to geopolitical conflicts and the energy crisis, Germany has consistently embraced a forward-looking perspective. It has steadfastly nurtured the belief that it possesses the capability to overcome challenges. However, it is disconcerting to note that little has been accomplished to tackle the truly pressing issues at hand, which encompass bureaucracy, the lag in digitization, and the dearth of skilled workers.
3 points need to be completely rethought here:
Securing skilled labour can only succeed if we promote and live diversity, equality and participation. Diversity is not a beauty factor, but a hard economic advantage. Germany and Europe are facing a shortage of 5 million skilled workers. We cannot ignore the potential. The entire society must be redesigned – for everyone.
Digitisation of the administration, strengthening and use of AI
The young generation must be included. Young societies are more innovative and dynamic, older societies are more structurally conservative. A study from 2022 says that the young economy is creative, dares to do something, and creates change. We value teamwork, empathy and compassion. That's what makes businesses successful.
See the full speech here.
Mobility Panel: Europe in the fast lane: Visionary Discussion on the Future of Mobility in 2035
Chaired by Johannes Pennekamp, Head of Department, Frankfurter Allgemeine Zeitung, the panel included Andrea Fuder, Executive Vice President Volvo Group Purchasing & Chief Purchasing Officer, Volvo Group, Uwe Hochgeschurtz, Chief Operating Officer, Enlarged Europe, Stellantis, Pierangelo Misani, Executive Vice President Research and Development and Cyber, Pirelli Tyre S.p.A. and Hildegard Müller, President, German Association of the Automotive Industry.
Hildegard Müller: The German automotive industry is aiming for climate neutrality by 2050. But we don't just have to look at new cars, we also have to look at the existing fleet. We need more than just regulation, otherwise, there will be no added value here – just look at China or the inflation reduction act in the US. We need to be open to technology, which is not an end in itself but an opportunity for options. In the car sector, the focus is clearly on electromobility. Synthetic fuels will be used primarily for the existing fleet. The German government has set a target of 15 million electric cars by 2023, but then we will still have 35 million cars in the fleet, 280 million in the EU, and 1.5 billion worldwide. Our goal remains to go electric, but the problem of the existing fleet remains. Europe is pursuing an energy policy that is below what is needed.
Uwe Hochgeschurtz: There has to be a clear framework. The EU has decided that from 2035 no more internal combustion cars may be sold. This means that the car has its best days ahead of it; it will be climate-neutral, with zero emissions. This also applies to the production of vehicles, which should be climate-neutral by 2038. The future belongs to the electric car, at least in the near future. If you put a unit of energy in here, you get 70% out. The efficiency of synthetic fuels is currently much lower, at 25 to 30 per cent. We should not stop research here, we should continue, but e-fuels are not a serious alternative for the next decade.
Andrea Fuder: Trucks and buses are also being converted to CO2-neutral drives, but there is no deadline for this as there is for cars. We are investing in battery and fuel-powered trucks until 2040. For heavy goods transport, the internal combustion engine is still justified but powered by e-fuels or hydrogen. This openness to technology should be maintained. The transition to electrification is one of the most important answers we have to give. But I doubt that the necessary systems will be ready in time. The biggest problem is the network, the electricity grid. The demand for electricity is huge.
You can see the discussion here.
The European Financial Policy Talk with Dr Magnus Brunner, Minister of Finance of the Republic of Austria, and Manfred Schäfers, Business Editor, Frankfurter Allgemeine Zeitung
In recent months and years, the Austrian government has taken proactive measures to implement significant changes. Notably, we have introduced a comprehensive tax reform that includes the reduction of tax rates and addresses the long-debated issue of "cold progression." Additionally, the prevailing high inflationary conditions have worked in our favor. Although we may not have a debt brake in place, our primary objective is to establish sustainable budgetary paths and promote responsible fiscal policies that enable us to effectively navigate the future at both the national and European levels.
Addressing the role of the European Central Bank, there has been criticism regarding its perceived inaction or delayed response to crises and inflationary concerns. However, it is important to acknowledge the limitations and challenges it faces. Consequently, there is an urgent need to realign our focus towards a more sustainable fiscal policy that equips the ECB better to address crises and manage inflationary pressures effectively.
By emphasizing the importance of sustainable fiscal practices, we are committed to creating a more stable and prosperous future for our nation and the broader European context.
Please see the full interview here.
We would like to express our gratitude to the Frankfurter Allgemeine Zeitung and its editor, Gerald Braunberger, as well as the F.A.Z. conference team and ESMT for the successful conference and collaboration.
.