On 3 July, United Europe organised a panel discussion on EU Africa Relations with the title "Is Europe in Africa driven by values or interests?"
Journalist Mercy Abang spoke with CEO of Conjuncta Prof Dr Stefan Liebing, MEP Hildegard Bentele, Head of Division for Pan-African Issues, Southern Africa, African Union and Great Lakes Region at the Federal Foreign Office Sarah Bernardy, and accomplished investigative Journalist Tomi Oladipo and Hannah Ajala about the prospects of the EU fostering a more integrated strategy for connecting Africa and Europe. We would like to thank HE Ambassador of Malawi to Germany Joseph John Mpinganjira for attending the panel discussion.
The debate took place as part of United Europe's EU-Africa Advocacy Seminar: "An African Perspective on EU Africa Relations, a shared vision for both continents". United Europe's recently elected Vice President, Cathryn Clüver-Ashbrook alongside Secretary General at the German Africa Foundation (DAS) Sabine Odhiambo, commenced the seminar with captivating keynote speeches followed by contributions from Fatu Ogwuche (CEO at BigTechThisWeek), Muhammad Sani (Former Commissioner of Kaduna State, Nigeria), Emmanuel Uwandu (CEO at GAS360), Ferdinand Pavel (Director at EY), Cheta Nwanze (Analyst at SBM Intelligence). You can see a recording of the seminar on United Europe's YouTube Channel.
Below please find a summary of some of the debate's interventions and opinions of our guests on selected topics.
Journalist Mercy Abang initiated the debate by recognizing the EU's commitment to human rights, which is a widely shared perspective in the Global North. However, recent events have led to criticism of the EU's response to crises, particularly the plight of migrants from Africa in the Mediterranean. The sinking boat carrying migrants highlights either potential hypocrisy in crisis management or, at the very least an apparent blind spot in addressing the African crisis, Abang said.
MEP Hildegard Bentele acknowledged the importance of honest and open dialogue about Europe's interests in Africa. Global Gateway, a European exercise aimed at providing digitization and infrastructure to Africa, has faced challenges and to compete with other global powers, the EU needs to increase efficiency and agility: "The limited awareness of the Global Gateway initiative in Africa is concerning and the EU is actively pursuing to improve visibility," Bentele said. Observers have noted that interregional activities within Africa seem to take precedence over Europe's Global Gateway initiative. The EU's lack of unity and perception as individual member states instead of a cohesive entity is part of the problem. The concept of 'Team Europe' needs to be strengthened, Bentele concluded.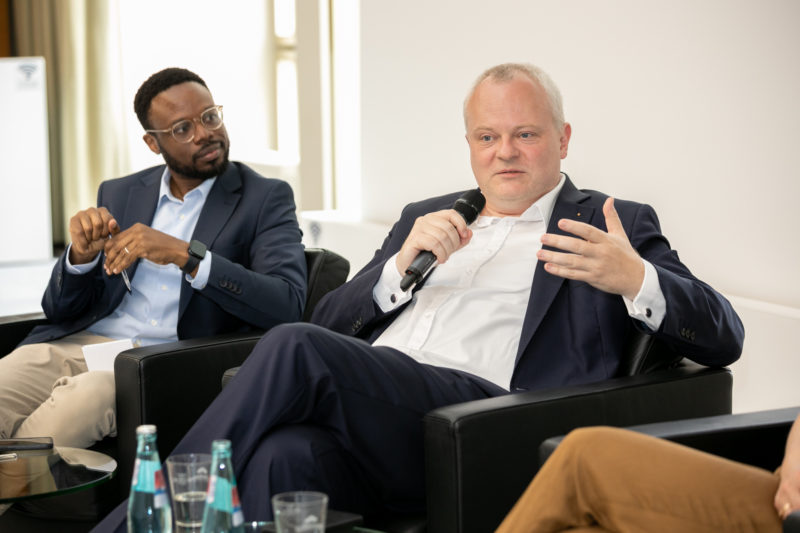 Stefan Liebing, CEO of Conjuncta, highlighted that Africa's population growth demands the creation of 20 million new jobs each year and that Europe has a vested interest in supporting Africa to prevent deepening migration challenges. Finding common ground is essential for both parties, he said: "As someone who has headed the Afrika Verein, I have noticed a recurring theme in speeches over the past two decades: Africa's tremendous potential. Instead of dwelling on what divides us, it is time to shift focus towards identifying mutual interests and shared goals."  The German trade volume with Africa is about as high as German trade with nations like Czech Republik or Denmark. It is important to address this disparity and foster stronger economic ties. Currently, there is a rising group of African countries emerging as energy providers and recipients of new green energy payments substituting petrodollars. Europe with its energy needs, presents Africa with substantial opportunities for collaboration. There exists a significant overlap where our efforts can intertwine and yield fruitful results.
To effect change, two critical areas require attention:
Mitigating Risk Aversion: Small and medium-sized enterprises (SMEs) tend to be more risk-averse compared to multinational corporations, which have the capacity to absorb potential failures. To encourage SMEs to engage with African markets, we need to provide them with increased access to finance and guaranteeing instruments. Existing banking regulations often hinder European banks from financing large-scale projects. A fair distribution of risks between the public and private sectors, along with regulatory adjustments, is necessary to facilitate financing opportunities.
Enhancing Education and Collaboration: Many German SMEs lack familiarity with African markets and require education and support to expand their horizons. Creating success stories in each African country will play a pivotal role in changing the mindset of German entrepreneurs. To achieve this, a collaborative effort involving the German government, embassies, financial institutions, and businesses is needed. Establishing one significant success story will provide the impetus required to alter perceptions and convince entrepreneurs that the risk lies in not engaging with Africa. Additionally, exploring innovative financing models and developing new organizational systems tailored to the African continent's unique challenges are necessary.
Furthermore, Europe must fulfill its climate commitments by mobilizing a substantial amount of green energy imports such as hydrogen, to replace oil, gas, and coal. Africa, with its abundance of sun and wind resources, can be a vital partner in producing hydrogen competitively and sustainably. It is vital to learn from previous discussions and accelerate progress in this area.
The challenge of job creation in Africa demands concerted efforts and collaboration. It is time to look beyond differences and focus on shared interests, Liebing stressed. Facilitating financial access, promoting education, and fostering innovative financing models will lay the groundwork for increased European engagement in Africa. By embracing these opportunities, Europe can bolster its energy security, meet climate targets, and contribute to Africa's development while avoiding future migration challenges. "The time for meaningful action and cooperation is now, and together, we can build a stronger future for both continents," Liebing concludes.
Sarah Bernardy, Head of Division for Pan-African issues, Southern Africa, African Union and Great Lakes at the Federal Foreign Office, referred to founding documents of the African Union and emphasised that human rights are universal values and should not be seen or phrased as "European values". Furthermore, the majority of Africans prefer democracy over other political systems and endorse democratic norms. Asked about visa application procedures that seemed to be particularly long for Africans, Ms. Bernardy said that she understood the frustration if people had to wait for long time for a visa and that the Federal Foreign Office was working on digitalisation of visa procedures. However, visa requirements did not differ from one region to another. With regard to foreign investment in African countries, investment conditions were often not attractive enough for foreign investors. "It is crucial to establish the right fr
amework and uphold the rule of law. Without these essential elements, a significant portion of what is often referred to as "risk capital" ends up being lost, diverting funds that should be invested directly into the project itself." Compared to e.g. Chinese investment in infrastructure projects, European and German engagement in Africa may not always be immediately visible, since a lot of German and EU funding was spent in structures and frameworks to enable sustainable development and business growth. Recognizing that there is still much work to be done, Germany and the EU remain committed to investing in these endeavors and Global Gateway would be one example for this commitment.
Investigative Journalist Tomi Olidapo thinks that it is time for Europe to return to the drawing board and explore alternative solutions. Europe needs to navigate its double standards and reimagine solutions.
When Nigeria sought military assistance in its fight against Boko Haram, the United States declined due to concerns over Nigeria's military human rights record. This decision highlights the complexities surrounding international support in the face of such challenges. However, it also raises questions about the selective approach taken by certain countries when offering solutions. "Consider the recent events in Chad. Following the death of Idriss Deby, President Emmanuel Macron of France arrived in Chad and showed support by embracing Deby's son, who then assumed power through a coup. This situation exposes a discrepancy in how democratic principles and the rule of law are upheld by Europeans. Such inconsistencies give rise to legitimate concerns about the European Union's stance and actions. It begs the question: What can we truly expect from the EU?" Olidapo said.
Many of the challenges on the African continent extend beyond security concerns and encompass issues of development and education. While Europe focuses on attracting Africa's skilled workers to meet its own interests, it is crucial to consider the consequences for Africa as a whole. "We must reflect on what these skilled individuals leave behind and the impact on the continent's progress. The EU-Africa relationship is riddled with double standards and inconsistencies, particularly when it comes to offering solutions." It is crucial to acknowledge the limitations of current approaches and reimagine more effective strategies. By engaging with African countries individually and tailoring solutions to their specific needs, Europe can better address the development and educational challenges that underpin many of the issues on the continent. As Europe pursues its own interests, it must also consider the consequences for Africa as a whole, striving for a more equitable and mutually beneficial partnership, Olidapo concludes.
We extend our heartfelt gratitude to contributors, speakers and participants for joining us in Berlin and online.