On 6 February, over 50 young leaders gathered in Berlin to discuss China, Supply Chain Dependencies and Europe's Foreign Policy Interests at our Advocacy Seminar in partnership with EY and the DGAP.
We would like to thank our corporate member EY, in particular Ferdinand Pavel and Felix Klein, for their support throughout the process.
Dr Jennifer Pernau, Partner at Agora Strategy, Dr Josef Braml, European Director at The Trilateral Commission, Dr Ferdinand Pavel, Director at EY and Dr Tim Rühlig, Senior Analyst at German Council on Foreign Relations, provided their insights on how Europe should define its position between the US and China in terms of industrial transformation and geopolitical challenges ahead.
You can watch the Trailer of the Advocacy Seminar here and the full recording on our YouTube Channel. All images from the seminar can be downloaded here.
Dr Jennifer Pernau, Partner at Agora Strategy emphasized that Europe is heavily dependent on China for raw materials, and China not only mines but also dominates the processing of raw materials. Jennifer Pernau recommends that Europe should diversify its source countries and build its own capacity to produce materials and secure supply chains. Europe is also highly dependent on China for renewable energy, and renewables are in need of huge infrastructure investment, she added. Supply chain diversification is very capital-intensive and although there is talk of decoupling, this is not realistic for Germany at the moment, especially in the automotive industry, the chemical industry, and others. Another dependency Jennifer Pernau mentioned was semiconductors. In this area, Europe is very much dependent on Taiwan. Europe should start building its own production capacity, like the US, she said. "We need to speak with one voice in the European Market. We have to decrease our vulnerabilities in regard to price and disruptions. We need more R&D, and more collaboration between governments, businesses and academia. We need to set up our own China strategy and frankly a strategy for the future of Europe." Jennifer Pernau concluded. 
Dr Tim Rühlig, Senior Research Fellow at the DGAP cautioned that Europe had reached a stage of intellectual laziness. Maintaining the freedom to act must be Europe's main objective, he said. Brussels calls this "strategic autonomy", and Berlin "sovereignty".  Different terms may be used, but this seems to be the consensus. Policymakers often use these catch-all phrases that seem to cover various dimensions. When looking at the specifics, the challenges are very different. As long as Europe doesn't deal with the complexities within the different layers, Europe will not be able to face current challenges effectively. Tim Rühlig sees the Chinese leadership as quite rational: The question is whether Europe understands China's rationality. So far, China's response to the Chips Act has been restrained: "For the meantime, we will remain in an interdependent game, unless we are willing to pay an enormous price and Taiwan would certainly be such a scenario." Tim Rühlig stressed. The main challenge for Europe is to manage this interdependence that benefits Europe economically, keep it as efficient as possible and at the same time balanced and resilient to external shocks. "It is neither feasible nor desirable to completely decouple. The question is how to balance the relationship. There is not one formula to square the circle." Tim Rühlig said. Europe will never be at equidistance from China and the US, so of course Europe will coordinate with like-minded partners. The US is going to demand certain policies and steps from Europe and Europe will give in and compromise. The question is how united are Europeans on China and how strong is European solidarity. This is an important question when it comes to responding to measures such as the Inflation Reduction Act. Europe needs to think about the common debt and become more united as Europeans, this is crucial in the struggle between China and the US.  "Realistically and in the short term, the only way forward is to find a group of like-minded countries within the EU that are closely aligned on their China policy. If we wait on a consensus of all EU member states, Europe will have probably lost its significance in the geopolitical game", Tim Rühlig concluded.  
Dr Ferdinand Pavel, Director at Ernst & Young thinks that there is a lack of understanding of what the challenges are, of the situation we find ourselves in and why we suddenly have to deal with multiple crises at once. Europe is coming out of decades of the 'Washington Consensus' and a rules-based economy. This has created an economic system where everything is driven by cost considerations and efficiency. Politics didn't matter and that mindset is still very much there, but now with much stronger pressure points. To Ferdinand Pavel, the most important aspect is resilience: "We have one strategic goal, which is the decarbonization of industries and to remain competitive in the process." The recent market interventions in the US created a lot of excitement in the US market. As a result, the industry will move to the US and produce in the US as an alternative to China. Some European industries will set up operations in the US, which means lost added value in Europe. In Europe, with complicated instruments like the Climate Contract for Difference, similar market interventions are being tried and nobody knows what to expect: "What we need are simple instruments based on tax incentives, as the US has now introduced. The rules are clear and the administration knows how to handle them. We need to join forces in order to develop a position of strength and to be in a position to offer a European alternative," Ferdinand Pavel concluded.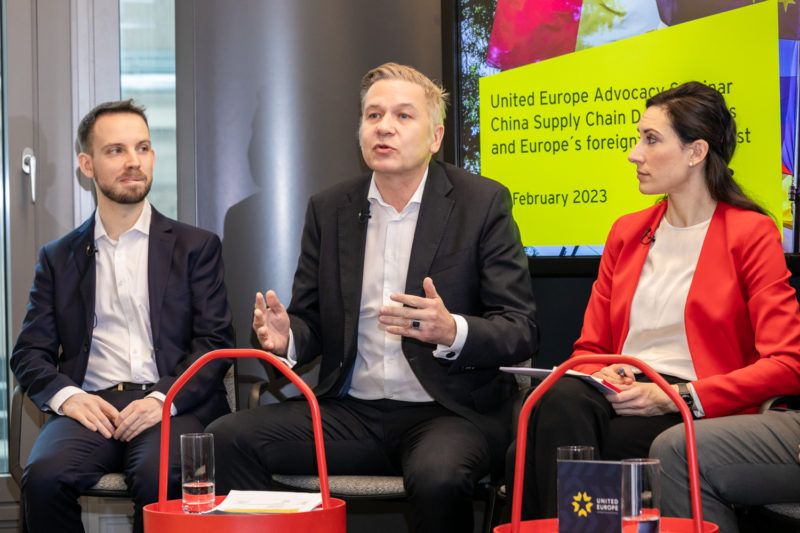 Dr Josef Braml, European Director of the Trilateral Commission emphasized that Europe did not think strategically in the last decades. Europe has been the junior partner of the US and the US acted in Europe's interest. Washington thought that the world would play by its rules and that China would become a responsible stakeholder playing to Washington's tune, Josef Braml said.
According to Josef Braml, it is no longer a world of cooperation, it is now a world of confrontation: "We have to relearn to cooperate. We are forgetting that this planet is in a hot mode and there has to be a modicum of cooperation. If we continue to disconnect, we may end up in World War III. We are already in a cold war." Decoupling means building independent and self-reliant economic ecosystems and Europe will have to decide whether it wants to be its own stable pillar or the junior partner of the US or China. "We have to create the United States of Europe that works with common debt. Only with a lot of money can we create the cohesion we need. We need to make better industrial policy and here the market is better than the bureaucrats in Brussels. We have to start preparing for the cold war we are currently in and be careful that it is not getting a hot war. Either way, a United Europe would be the answer," Josef Braml concluded. 
The discussion was moderated by Dyria Sigrid Alloussi, Program Director at United Europe e.V.. We would like to thank all the participants for their contributions.