After days of projections, it was clear last week that Joe Biden and Kamala Harris had won the race for the presidency of the United States. The outcome of the election represents a chance for a new direction in transatlantic relations. In the coming months it will be important to help shape the new relationship with the USA. But even under President Biden there will be no easy return to the status quo ante. What changes can Europe expect under the new leadership and what conflicts will remain? We would like to discuss with you and our guests the future and the chances of the European-American relations as well as further questions concerning the foreign policy dimension of the US elections.
Introductory speech: Will Hurd, Member of the U.S. House of Representatives
Discussion:
Sigmar Gabriel, former Vice Chancellor of Germany; Chairman Atlantik-Brücke
Günther H. Oettinger, former EU Commissioner; President United Europe
Daniela Schwarzer, Director DGAP
Anna Wieslander, Director for Northern Europe at Atlantic Council
Moderation:
Natalia Drozdiak, European Technology Reporter, Bloomberg
About our guests:
William Ballard Hurd, a San Antonio native and Texas A&M Computer Science Graduate, served 9 years in the Central Intelligence Agency (CIA) before serving as U.S. Congress representative for Texas's 23rd congressional district since 2015. William Hurd is considered one of the most moderate Republicans in the House. He has voted against his party's positions on LGBT rights, gun control and immigration. On August 1, 2019, Hurd announced that he will not run for reelection to Congress in 2020 after finishing his third term. Since 2019, Hurd has also been serving on the Transatlantic Task Force of the German Marshall Fund and the Bundeskanzler-Helmut-Schmidt-Stiftung (BKHS).
Sigmar Gabriel was Federal Minister for the Economy and Energy from 2013 to 2017 as well as Vice-Chancellor from 2013 to 2018 and served as Federal Minister for Foreign Affairs from 2017 to 2018. On June 26, 2019, Mr. Gabriel was elected Chairman of Atlantik-Brücke by Atlantik-Brücke's members. Mr. Gabriel has been politically active since 1976 and joined SPD in 1977. He became a member of Lower Saxony's parliament over the course of the 1980s. During the subsequent decade, among other positions, he held the post of chair of the environmental committee of Lower Saxony's parliament and was a member of the SPD executive committee. He served as Prime Minister of Lower Saxony from 1999 to 2003, and he has been a directly elected member of Germany's Lower House of Parliament since 2005, taking over the post of Environmental Minister that same year. Gabriel, who represents the Salzgitter-Wolfenbüttel district, occupied the position of SPD chairman from 2009 until 2017.
Günther H. Oettinger, President of United Europe e.V., served as European Commissioner for Budget & Human Resources From January 2017 to November 2019. From November 2014 to December 2016, he held office as European Commissioner for Digital Economy and Society after being European Commissioner for Energy from February 2010 to October 2014 and lastly also Vice-President of the European Commission in 2014. From 2005-2010, he was Prime Minister of Baden-Württemberg (Germany) and, since 1984, a member of the regional Parliament ("Landtag"). He was the leader of the CDU Landtag group from January 1991 to April 2005. A lawyer by training, Günther H. Oettinger became actively involved in politics during his adolescence. He is a member of the Federal Executive Committee and of the Steering Committee of the CDU Deutschlands.
Dr Daniela Schwarzer is a leading political analyst, lecturer and advisor on EU affairs and member of the board of United Europe. Since November 2016, she is Otto Wolff Director of the Research Institute of the DGAP (German Council on Foreign Relations). She previously was an executive team member of the German Marshall Fund of the United States, serving as GMF's senior director of research and heading GMF's Berlin office as well as its Europe program. Prior to this she spent eight years at the German Institute for International and Security Affairs (SWP), where she led the research group on European integration from 2008 to 2013. During this time she advised Poland and France during their respective EU Council presidencies and served as a consultant to the Centre d'Analyse Stratégique for the French prime minister. She serves on the advisory boards of the European Council on Foreign Relations (ECFR) and the Jacques Delors Institute in Paris and is a non-executive board member of BNP Paribas.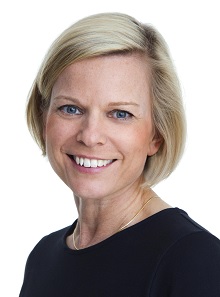 Anna Wieslander is Director for Northern Europe at the Atlantic Council and concurrently serves as Secretary General of the Swedish Defence Association. She is also the Chairman of the Institute for Security and Development Policy (ISDP) in Stockholm, and a member of the Royal Swedish Academy of War Sciences. Anna Wieslander was previously Deputy Director at the Swedish Institute of International Affairs (UI). She has held positions as Head of the Speaker's Office in the Swedish Parliament, Secretary of the Swedish Defence Commission and Deputy Director of the Swedish Defence Ministry. She has also served as Communications Director in the private sector.
Natalia Drozdiak, a European technology reporter at Bloomberg News and based in Brussels, writes about the impact of the regulatory crackdown on Google, Apple, Facebook and other tech giants as well as cybersecurity and privacy issues, and innovation in Europe. Prior to Bloomberg, Natalia Drozdiak was at The Wall Street Journal, where she covered EU antitrust and tech regulation in Brussels and German business news in Frankfurt. She is a dual U.S.-Belgian national and was raised all around Europe
This event is the result of a joint effort between United Europe and Atlantik-Brücke.