Dear members and friends of United Europe,
Welcome to the new website of United Europe! By the new look and a modern, more dynamic appearance, we want to present our work in a visually more appealing and clearer way.
2018 will surely be an interesting and turbulent year for Europe! To reflect these developments, United Europe will address a number of hot issues, particularly in the first half of the year.
The results of Italy's elections show a sad reality. Almost every second Italian voted for a populist or anti-European party. It will take endless months to form a new government. And it is not even clear yet if a new government can be set up or if there will be elections again. We have to realize that many Italians are fed up with the well-established parties. It is desperate that Italian politicians fail to draw a clear vision of a positive future for a pro-European Italy.
Yet, Europe's strength in trade issues has never been more obvious. Since US-President Trump's announcement to set up protective trade policies, trade agreements with the European Union became number one priority for many states. The European domestic market is huge, attractive and the reason why Europe is in the position for demanding a level playing field with the USA, China, etc. In times like these, it is obvious why it is so important to have a united, liberal and competitive Europe. Particularly in trade issues, European citizens benefit enormously from the community's powerful position.
One year after his election as French President, Emmanuel Macron must prove that he can push through his reforms; moreover, he must show in how far he wants to reshape Europe by implementing his ideas. To discuss this, we are planning a CEO roundtable in Paris in May on the topic "Can Macron's ideas change Europe?"
On this occasion, we would have liked to welcome our Vice-President Sylvie Goulard; however, following her appointment as Deputy Governor of the Banque de France, Mrs Goulard will have to give up her honorary post at United Europe; we deeply regret that decision. We hope that Mrs. Goulard will nevertheless remain with us and wish her all the best for her new job!
Our first event this year took place on February 14th on the eve of the Munich Security Conference in Munich. On the topic of "Artificial Intelligence – A European View", we invited 40 CEOs and experts in the field of artificial intelligence (AI) to Siemens' new Headquarters. Artificial intelligence is THE technical future topic of the years to come. AI will dramatically change our work, our society, the way we live. According to a recent study by Bitkom, one out of ten jobs will fall victim to automation over the next five years. At the same time, new jobs will be created. New companies will be founded. But Europe – despite excellent conditions – is in the process of becoming dependent on the USA and China in this area. Even politicians have already recognised that and have drawn attention to the threat. Industry and businesses in Europe must dare to join forces more closely and demand the necessary political preconditions. A summary of the event (including some photos) can be found here.
This year we have chosen "European Identity" as the thematic framework for our work. Above all, we want to ask whether there is a European identity. If so, what is it? How is it defined from different perspectives? What could it be good for? One year ago, at the Young Professional Seminar in Aix-en-Provence, we have already investigated the question of a common European identity. At that time, the participants drew up a list of measures to support the formation of a common European identity (you can find them here:).
We want to put the term in the centre of our discussions and – by the end of the year – we will publish a summary of our findings.
Our event with the well-known, multiple award-winning Turkish journalist and author Can Dündar, who lives in exile in Berlin, is also about European identity in the broadest sense. In his lecture "Europe – A Turkish View" on Friday, 16 March, he will discuss the current situation between Europe and Turkey and, among other, he will ask the question of how to deal with Turkey in these difficult times. Further information can be found here.
Our next Young Professional Seminars will take place in Freiburg im Breisgau, Germany (April 20th-22nd) and Nice, France (June 8th – 10th ). Under the topic "Understanding Europe", in Freiburg we are working on the question of how politics actually works within the EU. How laws are made in Europe, how contracts come into being and how important a functioning regulatory policy is. The event takes place in cooperation with the Centre for European Politics (CEP) at the famous Albert Ludwigs University (more information can be found here).
In Nice, in cooperation with the Franco-German Cultural Institute, we want to pool Europe's creative forces and find new ways of telling the European community's success in a two-day hackathon: "How to tell the EU's Story". Far from mainstream stories in the media and social networks, we are searching for a positive narrative for Europe and the EU. We reach out for the young Europeans' different, fresher view of the EU and try to find ways to promote it. The European elections 2019 only one year ahead, the seminar is supposed to be the starting signal for an annual, Europe-wide competition that will once again draw attention to Europe from a different angle and will hopefully inspire enthusiasm. More information coming soon.
On May 22nd, we are part of the We4Europe conference that takes place in Berlin. United Europe's President Dr. Wolfgang Schüssel will discuss with young Europeans current issues and challenges of the European Union.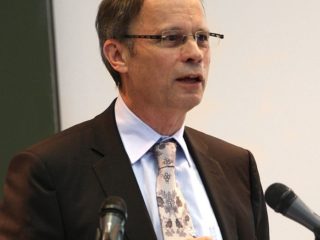 We are very honoured to welcome the French Nobel Prize Winner Prof. Jean Tirole at a dinner-debate in Berlin. On June 14th, we will discuss with him European economic issues. We are delighted, and we are looking forward to this outstanding evening.
We also want to shed light on the relationship with our eastern neighbours. Together with our member Covalis Capital, we invite you to a CEO roundtable in the beautiful city of Vilnius on June 26th. Topic: "Economic & Political Relationship with Russia".
In addition, we are starting a cooperation with the platform Europa-United. The Irish-based platform is a non-profit
authoring portal dedicated to the European project and its institutions. The aim is to promote the idea of closer European integration through opinions, discussions and information. This perfectly fits to goals of United Europe; thus, we will publish texts from Europa-United on our website. Europa United on the other hand will publish texts from us and our members and will share them on Twitter and Facebook. Further joint projects are not excluded.
We sincerely hope that you will stay with and we are counting on your support for our projects. We are always open to ideas and suggestions, and we highly welcome active cooperation. Let's get closer to our dream of a united, competitive and diverse Europe!
Best wishes
Sabine Sasse & Julia Reuss