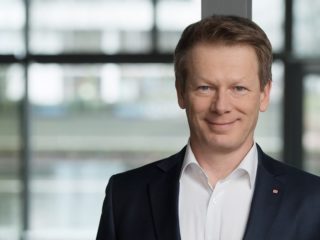 The railways can hold as a good role model for the European idea. Dr. Richard Lutz, CEO of Deutsche Bahn AG, names eight points, that are indispensable for a successful Europe.
Thousands of young people are setting out on a journey to discover Europe by rail. The EU is giving nearly 15,000 Interrail tickets to 18-year-olds for 30 days of travel all across the continent. I can't think of another initiative that better exemplifies how rail connects Europe. Mobility and logistics are vital to our society. They lay the crucial foundation for every citizen's participation in society, for environmentally friendly transport in an age of climate change, and for national and global economic growth. Germany is the heart of trans-European transport networks, with six European rail corridors running through the country.
Open borders and well-developed transport links which allow people to travel freely and which encourage a steady exchange of goods and services are all that anyone born in 2001 has ever known. Brexit and growing trends toward nationalism in certain member states have reminded us that we can't take this openness for granted.
Especially in the current climate of protectionism, isolation and xenophobia, it is more urgent than ever for us to look at what connects us. At Deutsche Bahn, we represent a Europe without borders. We represent diversity. We represent tolerance. We represent an international division of labour and cross-border trade. In Germany alone, we employee people from more than 100 countries. Over 330,000 people in over 130 countries work for Deutsche Bahn globally. And our customers come from every part of the world. At Deutsche Bahn, we connect people. In other words, close-minded nationalism and, worse, xenophobia, are the opposite of the values we stand for.
We are a company with a strong European focus. There are direct long-distance links connecting Germany to around 150 cities in Europe. We offer roughly 240 connections a day, with ICE or other high-speed service on 50% of those connections. Over 40,000 passengers use one or more of our connections each day. Our rail freight network is international, with operations in 17 countries in Europe. Over 60% of our rail freight connections cross at least one national border, and some extend well beyond Europe's borders.
Rail is Europe's strong backbone. Europe's railways serve as a model for the idea they represent: maintaining good relationships with neighbours, but beyond that, going a step further by working together at the European level to bring people together and promote economic growth. Let me give you eight specific examples of the basic foundations of Europe that we believe are vital for a successful future.
1. Single market
As a provider of mobility services, we put the fundamental European idea of the single market into practice every day. A single market which works as it should and which is based on the four fundamental freedoms is in our vital interest.
One of the EU's core responsibilities is to ensure that everyone, in every member state, has fair market access with the same rules. It is also to eliminate the remaining bureaucratic and technical barriers to market access. There are still too many inconsistent standards left over from former national rail systems that need to be harmonised in the interest of a European railway area – from signalling equipment to the working language on cross-border routes.
2. Fair competition among modes of transport
We need a positive economic framework for investment and growth. That means giving European companies equal opportunities in their markets.
Rail is in a paradoxical situation. The cost of rail transport continues to rise, and prices and margins continue to fall. Road transport, in contrast, is less expensive on the whole. This calls for swift action, as private motorised transport is stretched to its limits. That is why we need fair competitive conditions to strengthen environmentally friendly rail.
3. EU infrastructure financing
Expanding trans-European networks is one of the EU's core responsibilities, and the German government, other countries, the EU and railway infrastructure managers need to work in concert. Europe needs the support of a high-performing transport infrastructure in order to compete. Otherwise it will not be able to accommodate future transport growth.
The Commission's new infrastructure financing proposal, which provides for EUR 42 billion to expand trans-European transport, energy and digital networks, is currently being discussed in Brussels. This is good news for European transport because every euro invested in cross-border infrastructure brings Europe and its people closer together and contributes to growth and employment.
4. Digitalisation
Rail needs to take full advantage of every opportunity afforded by digitalisation in order to offer customers transport services that meet the needs of today. European initiatives are incredibly important in a number of areas. The EU took a key step toward a single European rail network by introducing the digital European Train Control System (ETCS). It should continue to push for prompt and harmonised expansion of the system in all member states.
Germany is pursuing a course of rigorous technological modernisation with its Digital Rail for Germany program. We will increase capacity in the network by up to 20% by using ETCS and digitalising the entire system. In the future, the network will be able to accommodate more trains while transport becomes more reliable and the network more European.
5. Climate protection
The EU has set ambitious targets for reducing CO2 emissions through the Paris Climate Accord. The transport sector in particular poses a challenge. We strongly believe that the only way to reduce emissions long term will be to strengthen green rail, since taking the train is akin to climate protection.
Deutsche Bahn is already playing a direct role in helping the EU reach its climate targets. By 2030, we want to cut our specific CO2 emissions from all global transport in half compared with 2006 levels. We want to be climate neutral by 2050. To reach these goals, we are systematically relying on renewable energy, energy efficiency and modernisation, for example by hybridising our diesel fleet, upgrading our network and vehicles for ETCS, and developing and implementing alternative drive systems.
6. Pillar of social rights
The EU has set important standards in its pillar of social rights. As one of Germany's largest employers, Deutsche Bahn has a great social responsibility toward its employees. Social responsibility means not only good working and employment conditions but also other important areas such as training, employee satisfaction, our appeal as an employer and digital expertise. These are areas where our objectives overlap to a large extent with the EU's targets.
7. Safety and security
Ensuring the safety and security of citizens is one of the core components of EU policy. In our global world, no one country can ensure effective protection on its own. The aim must be to further strengthen collaboration among security authorities and create uniform standards even when the framework varies from one country to the next. Open borders and the open rail system are vital for bringing people together and should be restricted as little as possible.
8. The EU's global position
The EU should actively promote its interests on a global scale when it comes to market access, fair trade relationships, investment protection and legal certainty in non-EU countries. Rail connections don't stop at Europe's borders, far from it. And Deutsche Bahn operates in a variety of markets and in a number of countries outside Europe.
In short, these basic European conditions and initiatives are vital for the rail mode. They will make it possible for rail to fulfil its important role for Europe's people and economy now and in the future.
These issues, using rail transport as an example, illustrate the importance of welcoming greater integration in many areas in Europe, especially now. We also need the courage to allow national and regional solutions where they are more easily developed locally. A Europe that continuously improves but carefully scrutinises everything it does will emerge from the current challenges as a stronger Europe.
The article is part of the series "Europe can do better. How the continetn find new strength. A wake-up call from economy" which appears in Handelsblatt in German and in German and Englisch on Handelsblatt Online and the website of United Europe until the European Elections. They are also collected in a book which was published on 15 April, 2019 by Herder-Verlag. Please find more information about the book in German here.
About Dr. Richard Lutz:
Richard Lutz was born into a railway family on May 6, 1964. After studying business administration, he worked as a research assistant to the chair for business administration at Kaiserslautern University, where he earned his doctorate in 1998.
Lutz joined Deutsche Bahn AG in 1994. In the years that followed, he held a variety of management and strategic project management positions at the Finance/Controlling Division.
Lutz was Head of Corporate Controlling from 2003. He then became Board Member for Finance/Controlling in April 2010, a position for which he continued to be responsible until the end of 2018.
Since March 2017, Richard Lutz has served as Chairman of the Management Board and CEO of Deutsche Bahn AG. His particular attention is on the transformation of DB, a Group-wide development that he is driving with his Management Board team. The straightforward and yet ambitious objective is to lead Deutsche Bahn in all its complexity and with all its assets and opportunities toward a successful future.
Lutz is married and has three grown-up children.