Don't make laws against fake news. Don't hold Facebook or Twitter accountable for the content posted by their users. Don't punish them for false information. Finally, don't believe that government subsidies are a good way to bolster news gathering and fact checking.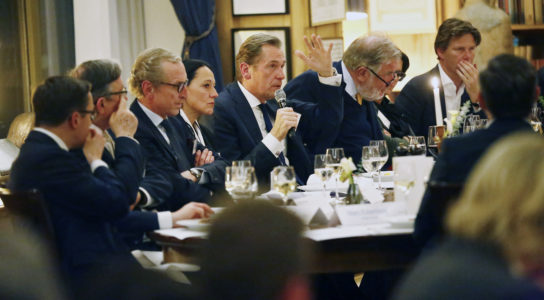 Mathias Döpfner, Chairman and CEO of Axel Springer SE, one of Europe's largest digital publishing houses, did not mince his words. At a United Europe Dinner on February 1, he emphatically rejected any government action to ensure that stories carried on social media are true.  "With the best of intentions, politicians say we need to do something about fake news. We need to strengthen truth," Dr. Döpfner said. "But is this really such a good idea?"
Döpfner was speaking to some 65 members and friends of United Europe gathered in Axel Springer's  Journalists' Club, an elegant, wood-panelled room overlooking the centre of Berlin. After the Brexit vote in the United Kingdom and the election of Donald Trump in the United States, the evening's topic seemed more relevant than ever: "Whom to Believe in A Digital World."
Fake news has become a serious issue, especially given Russia's massive attempts to manipulate public opinion in the United States and in Europe, Döpfner said. Yet this was not a problem that could be solved through new laws.
"We should not try to influence or filter the flow of news on social media," he said. "What people tell each other on the telephone may also be terrible, but it is simply none of our business." If a company like Facebook was to be made responsible for the content of the messages it carried, it would have to hire thousands of journalists and transform itself into a global news company, Döpfner warned. "Do we really want a global monopoly on news, and one player who decides what is the truth?"
With great passion and eloquence, Döpfner explained what he sees as the only real answer to the issue of fake news: good journalism, based on fact-checking and practiced by a multitude of media companies that are independent of governments because they are profitable. "We need news and opinions from a large variety of journalists and bloggers. Neither a social media monopoly nor – worse – the government should decide on what is the truth."
During a lively debate moderated by United Europe's board member Walter Schlebusch, Döpfner admitted that journalists have not always done their job as well as they should have. Most of them confidently predicted that Brexit would never happen, or that Donald Trump would never be elected. Many were still treating Trump very unfairly, he added.
"Focus on facts," the CEO of Springer summed up his advice to journalists. "Be cool and reasonable. Don't mix news and opinions. Drop the boring, dry-cleaned rhetoric of political correctness. Talk straight, even if the facts are unpleasant. Then people will see you as the reliable alternative to fake news."
In this sense, the rise of fake news could even benefit companies offering branded content, Döpfner said. "For media companies, this is not only a tremendous challenge, but also a tremendous opportunity, because what we do is fact checking. That is our business. We take responsibility for our content, and our biggest asset is our credibility."
Döpfner, describing himself as a "structural optimist", said he was convinced that neither great journalism nor great entertainment would be ruined by digitalisation. Yet media companies will need to adapt. Also, much depends on the development of competing global distribution networks.
"Will we survive? If global distribution networks consisted only of Facebook and Twitter, I would be worried. But with Samsung, Google and Snapchat also out there, I am already less pessimistic. Everybody wants to have content," Döpfner explained. "If we come to a healthy agreement which means that we get paid for content, that we have access to the data and control of the customer relationship, then we have a wonderful new tool for our development. Glory and evil lie tightly together, and it is not yet clear into which direction we are heading."
In his speech, Döpfner – who early in his professional career had worked as an EU correspondent for the Frankfurter Allgemeine Zeitung – was more pessimistic when looking at the wider European issues. "The EU is in bad shape," he said. "There is a new wave of national egoism. We have seen that in the refugee crisis. There are no properly functioning institutions at the moment."
The leadership provided by the democratic and centrist governments in the West was relatively weak, Döpfner said. In contrast, the leaders of countries like Turkey, Russia and China were not only successful, but liked and celebrated by most of their own people.
"Our decision makers should be proud of our democratic systems, of the rule of law, of the respect for human rights," Döpfner concluded. "Undemocratic societies cannot be compared to the societies of the free world, and we should really be proud of that difference."
Text:
Bettina Vestring
Photos: Hannibal Hanschke