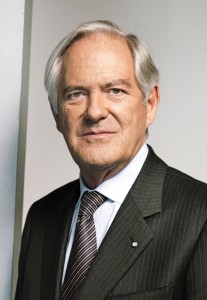 What does Europe stand for? We must think about that question. Europe has its origins in a commitment to peace and liberty. That has worked for nearly 70 years. But for the next generation, the main question will be whether and how Europe can continue to play a role in the world – economically, technically, culturally, socially, politically, militarily and through its values.
We also need to look at the question of how Europe will be governed. Since the beginning of the Euro crisis, decision making has largely been re-nationalised. Thanks to the Lisbon Treaty, the European Parliament decides on most legislation on an equal footing with the Council of Ministers and the Commission. However, most of the important decisions so safeguard the Euro were taken independently of treaty provisions at EU summits. Accordingly, the parliament has had little say over these decisions that were of huge importance to Europe. At best, it was asked for an opinion. In the long run that's no way to govern Europe legitimately.
Then there is the question of how we can contain the long term damage caused by the Euro crisis. How can we redress people's impoverishment in the crisis countries? And what can we do to combat the unemployment that is threatening economic survival? It is clear that we need Europe's help. Youth unemployment in Southern Europe is not going to disappear just because the Euro is slowly stabilising.
It is not just decision making in Europe that has been re-nationalised; it's also the attitudes governing Europe's citizens. Just look at how angry some Southern Europeans are about Chancellor Merkel. Young Spaniards, who suffer from an unemployment rate of nearly 60 percent, find it difficult to be enthusiastic about Europe. The most important question we are faced with today is: What can we do to heal the split that is dividing Europe?