On 15 March United Europe's CEO Roundtable and Working Dinner took place at the representation of the European Commission in Berlin.
With Germany's State Secretary for Economic and Financial Affairs, Dr Jörg Kukies, Dr Jörg Wojahn, Head of the EU Representation in Berlin, Dr Manuel Kallweit, Chief Economist at the German Association of the Automotive Industry (VDA), Eva Chamizo, General Secretary European Affairs at Iberdrola, Dr Julia Reuss, Director of Public Policy at Meta, Simone Menne, President of the American Chamber of Commerce and other Representatives of United Europe's corporate members such as Covalis Capital, BASF, Enedis, GMH, Ernst & Young, Würth Group etc, United Europe's President Günther H. Oettinger discussed industrial transformation and how to strengthen Europe as a business location.
United Europe's President Günther H. Oettinger emphasized the need for a strong Europe in the face of various crises. Europe is currently lagging behind in terms of competitiveness and efforts need to be stepped up on a regional, national, European, and continental level.  Günther H. Oettinger underlined the importance of bridging: "We have to optimize our bridges: Bridging automotive to energy to digital, the European Commission's work to the work of governments in Germany and France and other member states, public to private. We need more bridges between business and government. Commissioners need to talk more to their economic counterparts," Günther H Oettinger concluded.
We would like to thank the Representation of the European Commission in Germany, our corporate member Covalis Capital and our Board Member Paulius Kuncinas for their contribution and support of the event.
Interventions
Dr Jörg Wojahn, the Head of EU Representation in Germany, gave a briefing on the European Commission's current work and priorities. One of the key topics discussed was the US Inflation Reduction Act, which has been welcomed by the European Commission as it shows a significant commitment by the US to make its economy climate-ready and serves as a clear indication that a climate-friendly economy is good for business. However, not everyone has grasped this concept yet, as some people are still trying to "rescue the horse-carriage". 
To respond to the IRA, the European Union has established the Net-Zero Industry Act. Under this act, permitting will be accelerated and member states will set up regulatory sandboxes to test innovative net-zero technologies. The act also allows for tax breaks and provides more flexibility in accessing EU funds. Another important area of focus for the European Commission is the Critical Raw Materials Act. The Commission recognizes the need to secure Europe's supply of critical raw materials, particularly given China's current dominance in the market. The Commission is exploring several ways to achieve this, including trade agreements, the creation of a critical raw materials club with like-minded countries, and increasing mining, processing, and recycling capacity within the EU.
Trade agreements are a high priority on the policy agenda, according to Dr Jörg Kukies, Germany's State Secretary for Economic and Financial Affairs. He discussed efforts to diversify away from China and explore opportunities in other regions such as India, Australia, New Zealand, Argentina, Chile and the Western Balkans. Kukies stressed the importance of critical minerals and the need to create processing capacity in the European Union while also offering source countries a proposal for higher added value in their own country.
Kukies also highlighted the importance of interconnectedness and cooperation among member states in achieving the goal of 100% renewable energy. He noted that the German government has a clear advanced economic strategy to achieve the goal of 20% global semiconductor production, with Dresden already a hot spot for semiconductor investment.
Dr Manuel Kallweit, Chief Economist at the German Association of the Automotive Sector, discussed the global nature of the German automotive industry and the need to look beyond Europe. The automotive industry is a global market with significant competition, and while Europe has traditionally been a dominant player, the role of the continent is declining. Kallweit emphasized that the Chinese market has grown significantly and now has a market share equal to the US and Europe combined. Germany, in particular, has been a significant automotive manufacturer, but other regions now produce more. A VDA survey found that around 90% of automotive supply companies consider Germany an uncompetitive business location due to energy prices and labour force challenges. Electromobility is crucial to achieving climate targets, but not all countries have the necessary infrastructure for electrified cars. Battery production has started, but the raw material issue is a significant concern, especially in Europe.

The opinions of our guests: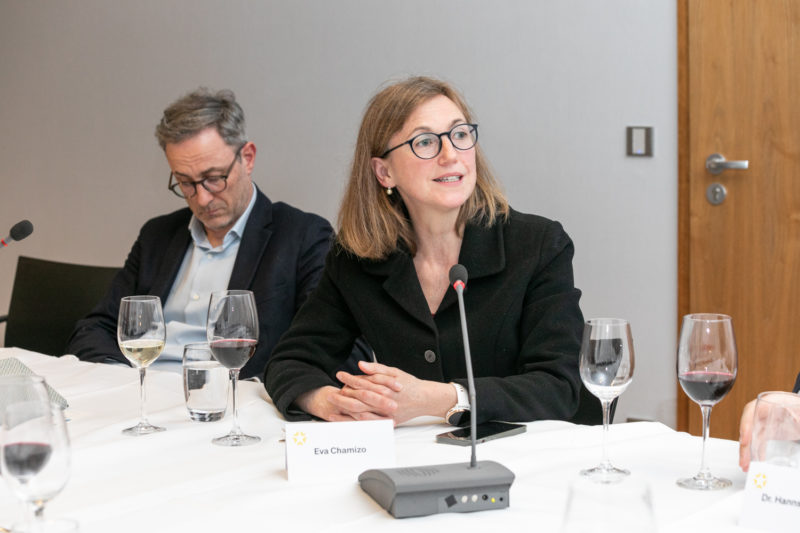 Eva Chamizo, General Secretary of European Affairs at Iberdrola, emphasized the importance of analyzing recent developments in both Europe and the US. With operations in multiple countries on both sides of the Atlantic, Iberdrola has a unique perspective on the ongoing efforts and challenges towards decarbonization. Chamizo noted that Europe has been taking action towards decarbonization for several years now, and it is encouraging to see the US beginning to recognize the importance of this issue as well. However, Chamizo raised an important concern about regulatory stability. Investors in capital-intensive industries prefer stable and predictable regulations, as constant changes make it difficult to plan and invest in projects. Chamizo suggested that if Europe continues to rapidly changing regulations, it may discourage investors.
While it is encouraging to see progress being made on both sides of the Atlantic, policymakers and regulators should consider the impact of their actions on investors and businesses by finding ways to balance environmental goals with regulatory stability.  
Simone Menne, the President of the American Chambers of Commerce in Germany, highlighted the need for cooperation between Europe and the US, rather than European protectionism. Menne pointed out that Europe should learn from the US, particularly when it comes to bureaucracy. By working together, the US and Europe could form a huge market volume that could compete with China and set global standards. However, Menne also said that Germany is losing its attractiveness as a location for businesses due to high energy costs, taxes, bureaucracy, inefficient digital infrastructure, and a lack of pragmatism on sustainability incentives. Menne suggested that Europe could learn from the US in these areas, as well.
Dr Julia Reuss, the Director of Public Policy at Meta, echoed Menne's sentiment about the need for a more pragmatic approach to data use in Europe. Reuss pointed out that while big companies like Meta can hire dozens of lawyers to navigate the bureaucracy surrounding data use, small and medium-sized enterprises (SMEs) cannot. This creates a barrier to entry for SMEs that want to build business models around data. 
Reuss also noted that there is a general perception in Europe that data is something to be protected at all costs, rather than something that can be used to drive business efficiency and growth. While data protection is important, Reuss argued that this mindset is limiting Europe's ability to compete with China in the data market. To compete globally, Europe needs a more pragmatic approach to data use that balances the need for protection with the potential for business growth. By working with the US and adopting some of its approaches to bureaucracy, Europe could create a huge market volume that could compete with China and set global standards.
According to Christian Schubert, Head of Corporate Government Relations at BASF,  the Green Deal lacks an economic rationale and may not lead to the desired outcomes. BASF is currently reviewing over 14.000 pages of regulation, and the full impact of the Green Deal on the chemical industry is yet to be seen. While the Green Deal aims to achieve zero emissions, BASF argues that Europe needs smart regulations that incentivizes businesses rather than imposing regulations. Schubert pointed to the IRA as a better alternative.
The IRA focuses on creating business opportunities and incentivizing companies to invest in clean energy and reduce emissions.
Christian Buchel, a board member at Enedis, highlighted the need for over 400 billion Euros in investment to achieve an energy transition by 2030, noting that all 40 member states of Europe are seeking transformers at the same time, but the continent not having the industry capacity to produce them on a massive scale.  This is what is called a bottleneck in the supply chain – not caused by the Covid-19 pandemic. Buchel called for stability and less naivete to address the issue.
Kunal Sinha, Head of Recycling at Glencore, underlined that the energy transition is leading to a need for repurposing sites and shortening supply chains.
While recycling helps, it is not enough on its own to solve the raw material challenges that come with the energy transition. Friendshoring and global trade agreements can help ensure access to natural resources. Incentivizing processing capacity can be achieved through effective carbon pricing, investment incentives and regulation/directives. Europe has made progress in this area through carbon pricing but the US may not reach the same level of advancement. Overall, managing the transition to electrification will be a complex and time-consuming process, Kunal Sinha concluded.
We want to thank our speakers and guests for participating in the Working Dinner and especially our corporate member Covalis Capital for supporting this activity.