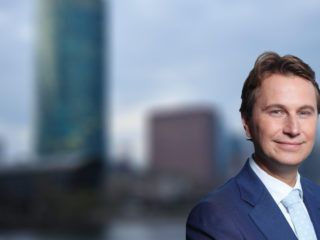 Inspired by the article series "Europe can do better", published by United Europe and German newspaper "Handelsblatt" from April to May 2019, the Dutch newspaper "Het financial Dagblad" has published views of eight Dutch CEOs and their visions for a joint and competitive EU. Please find following the article of Eelco Hoekstra, CEO of Royal Vopak:
For the Netherlands, the European Union is a natural project that builds on the age-old realisation that we are stronger by working together and are better off with an open economy. A company such as Royal Vopak is a good illustration of this. Our roots lie in the port of Amsterdam, where around 1616 a group of dockworkers joined forces in the Blauwhoedenveem to unload ships and carry goods from all over the world to the merchants' warehouses.
Over the past 400 years, the world and our company have changed dramatically, but we still exist by the grace of open markets and cooperation across borders. As a tank storage company, we facilitate international trade flows of products that are vital to our daily lives. These are chemical products, oil products, gases, edible oils and biofuels, possibly including hydrogen in the future.
Thanks to open markets, consumers and businesses can be confident that products will be available on time and at the lowest cost. It provides us in the Netherlands and people elsewhere in the world with jobs and economic growth.
The European Union is therefore of inestimable value to businesses, Dutch workers and society. As a champion of open markets, fewer trade barriers and a level playing field for large and small companies in the world, Europe has brought prosperity and competitiveness and thus a stronger position in the world, stability and peace. In addition, climate change, the energy transition, clean air, cybersecurity, immigration and food for a growing world population are not national but international challenges. We can only deal with them effectively through international cooperation. Here too, the European Union, whose course the European Parliament is partly responsible for determining, is of vital importance.
The European Union stands for openness and dialogue, security and justice. These are not self-evident. Only by working closely together can European countries compete in the world market, combat protectionism and guarantee our prosperity, welfare and security.
That is why we should not weaken but strengthen European cooperation. By cherishing the achievements and working on improvements where necessary, we are doing ourselves and our children a great service. I hope that we will all continue to trust that cooperation across borders will ultimately bring us the most. Over the centuries, we have learned that this is the best option.