It was Joe Kaeser, CEO of Siemens, who found the perfect opening words: "It gets pretty dark at night without light," he said. "Energy is the lifeblood of every prospering economy." With these two sentences, Mr. Kaeser set the tone for a very interesting United Europe Lecture held by Fumio Sudo, the chairman of the Tokyo Electric Power Company (TEPCO), on October 8 in Berlin.
TEPCO owns the Fukushima nuclear power station that was so heavily damaged by the 2011 earthquake and Tsunami. And while providing safe, reliable and affordably energy makes for a steep challenge in every industrialised country, the situation in Japan in the aftermath of the accident is particularly difficult.
No wonder, then, that Mr. Sudo's lecture on "Japan's Electric Power Industry after the Fukushima Nuclear Accident: What we can share with Europe" was met with great interest. About 70 guests from industry and politics had gathered on October 8 at the Siemens historic Mosaik Halle in Berlin, a beautiful hall named in honour of its Art Deco mosaic floor.
A 40-year clean-up process
As host, Mr. Kaeser warmly welcomed Mr. Sudo. Japan and Germany, he said, faced similar challenges and opportunities as for example the demographic change and industrial automation. Mr. Kaeser also expressed his respect and admiration for how the Japanese society coped with the consequences of the 2011 earthquake. "This catastrophe had a massive impact on the energy policy of every country in the world," he said.
Fumio Sudo began his lecture by describing the daunting challenges presented by the decontamination and decommissioning of the four damaged units of the Fukushima nuclear power plant. He described the difficulties presented by the influx of underground water and the key role that robots play in the clean-up. It will take at least until 2050, Mr. Sudo said, to finish the decontamination and the removal of radioactive debris.
It was Prime Minister Abe who had appointed Mr. Sudo as Chairman of TEPCO in 2014. As Sudo said himself he was charged with ensuring continued support to the Fukushima victims and transforming TEPCO into "another Toyota," meaning into a highly competitive and productive modern enterprise.
A plea for full deregulation
Even before the Fukushima accident, Japan's electric power industry was ailing, Fumio Sudo said. Electricity prices in Japan are 2.5 times higher than in many of the neighbouring economies. TEPCO itself had slid down in world sales ranking among electric power companies from number 2 in 2000 to number 8 in 2014.
Mr. Sudo pointed out that more successful companies were operating in fully liberalised markets. The many mergers and acquisitions and alliances in their markets represented a more dynamic management style. Finally, many companies that had separated out their transmission and distribution networks were doing better.
"For more than 50 years, there were no mergers or acquisitions among Japanese power companies," Mr. Sudo said. "Next year, we will liberalise the energy market." Full deregulation, he added, should happen sooner rather than later, with Japan's ten power companies integrating into two or three groups. "Unbundling is good for Japan," Mr. Sudo said. "Unbundling is a catalyst for integration."
"He is a rare breed"
At the same time, the nuclear safety authority should be independent from power companies. "Complete nuclear safety cannot be achieved by the same entity as effective power production," Mr. Sudo explained.
He also emphasised TEPCO's responsibility to support the Fukushima victims. While there had been no deaths caused by radiation exposure, there were 100,000 evacuees from the Fukushima region whose lives had been handicapped by the accident. "TEPCO has to remember that we have the responsibility," Mr. Sudo said. "If we forget that, we cannot survive as a viable company."
Fumio Sudo was introduced to his Berlin audience by United Europe's treasurer Jürgen Grossmann who had first met him more than 35 years ago in Japan when both of them were young engineers in the steel industry. "He is a rare breed," Grossmann said. "He is an engineer who has never denied that he is an engineer. That is good because the solutions to today's problems cannot just be left to accountants, marketing managers and lawyers."
No blue prints for new reactors
In the questions-and-answers session following the lecture, Mr. Sudo described the environment for the Japanese power companies as extremely challenging. TEPCO was expecting as much as a ten percent decline in power demand over the next several years. This reflected the effects of industry moving offshore, of energy conservation and of the demographic changes in Japan.
According to the energy plan that the Japanese government put forward this past July, by 2030 the country's energy mix was supposed to be made up of 22-24 percent renewables and 20-22 percent nuclear, Mr. Sudo explained. Yet this also presented difficulties as there were no plans for new nuclear reactors on the table yet. Most of the existing plants would have to be decommissioned over the next 15 years if there was no extension of the permitted age from 40 years to 60 years. At the same time, natural conditions in Japan were not easy for producing energy from renewable sources.
Similar challenges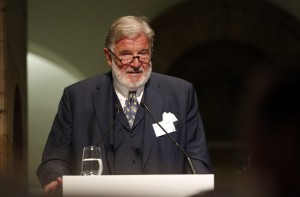 What can Europe learn from the Japanese example? Many of the challenges for a sustainable energy policy are similar given the high degree of industrialisation, the paucity of natural resources and the demographic changes both in Japan and Europe. Clearly, the Fukushima accident has made matters much more difficult for Japan. But Europe, too, will have to put an enormous amount of effort into providing affordable and environmentally sound energy in the coming decades.
In his introduction, Jürgen Grossmann had described Mr. Sudo's job at TEPCO as "probably the most difficult job in Japanese industry." After a fascinating lecture that provided a rare insight into the challenges faced by Japan, there were few people in the audience who wouldn't have agreed.
Photos: Ina Fassbender