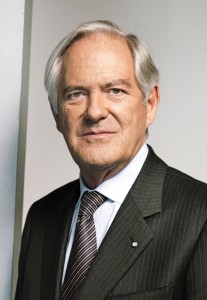 Overcoming the Euro crisis is not enough. If Europe wants to remain strong, it needs more growth, more innovation and a single European market for transport, energy and other sectors of infrastructure And finally, the EU must put its confidence in markets, not in regulations. These are the four proposals set out by Professor Roland Berger, founder of Roland Berger Strategy Consultants and founding member of United Europe, for making Europe's economic policy more successful.
What can Europe do to remain strong and free in the future? What can we do to set an example for the world? Even after we will have overcome the Euro crisis and stabilized our common currency, there will remain substantive challenges.
I would like to share with you what I see – after we have stabilized the Euro – as the four most important pillars of a successful economic policy, one that benefits companies and consumers alike:
What can Europe do to remain strong and free in the future? What can we do t
o set an example for the world? Even after we will have overcome the Euro crisis and stabilized our common currency, there will remain substantive challenges.
I would like to share with you what I see – after we have stabilized the Euro – as the four most important pillars of a successful economic policy, one that benefits companies and consumers alike:
A European growth policy,
A European infrastructure policy,
A European innovation policy and
A return to a European market economy.
The First Pillar: A European Growth Policy
I see a grave danger of political and social division in the EU. How are the 56 percent of Spain's young people who are out of work supposed to still believe in the Euro? Nor are the Northern Europeans prepared to foot the bill for the others indefinitely. The only way out of this difficult situation is economic growth.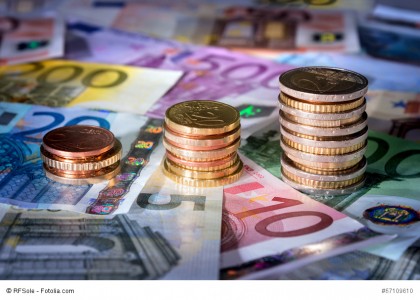 But we will not grow by raising government spending. Most European countries do not have any money to do that, and what is needed is not a Keynesian spending program, but structural changes for more competitiveness and productivity in the European economy.
That is why Roland Berger Strategy Consultants developed the idea of an economic growth program through privately funded infrastructure investments. Capital investment totaling at least one trillion Euros is needed in the EU for new and modernized infrastructure, and 170 trillion Euros of privately owned capital are out there in the world looking for investment opportunities that will generate safe, steady and reasonable cash flows. That money could be channeled into projects that benefit businesses: 270 billion for telecommunications, 220 billion for the energy supply, 200 billion for a modern water supply and wastewater disposal, and 250 billion for road and railway construction, and there are many other infrastructure sectors.
So what can we do to mobilize these funds?
Above all, we need a privatization-friendly infrastructure policy. Governments are not the most efficient operators of infrastructure. Their role is to ensure that every citizen has affordable and non-discriminatory access to infrastructure of a defined minimum standard, but not necessarily to operate that infrastructure. In France, for example, the water supply is privatized but the supply of electricity is in public hands – and exactly the opposite is true in Germany. That is absurd!
We must not be afraid of privatized infrastructure services as well as cooperation between governments and private operators in PPPs.
We must build profitable business cases for these projects. That involves user-based instead of tax-based financing, as well as a solid legal framework for investments.
We need a regulatory framework that is investor-friendly and does not only look at the lowest possible short-term consumer prices.
Roland Berger Strategy Consultants expects this plan to boost growth without burdening public budgets, and to generate multiplier effects thanks to additional investments in all other parts of the economy. Such a program would enable us to create several million highly qualified jobs, raise the productivity of our enterprises and make them more competitive. Lower unemployment would also yield higher tax revenues for the states while decreasing social spending. This in turn would lay the foundation for balancing state budgets and reducing debt levels.
The Second Pillar: A European infrastructure policy
Let us move on to the second pillar, the European infrastructure policy or, to put that another way: an internal open single market for infrastructure.
The internal market we created more than 20 years ago was and still is a driver of growth, productivity and competitiveness for European businesses and the EU as a whole. It has led to economies of scale, scope and skills. Yet the markets for infrastructure services still effectively work as national markets, whether you look at the way the infrastructure is regulated, invested in or operated.
This makes infrastructure less productive and less competitive in a global frame of reference, which in turn places a burden on businesses, a burden on consumers and a burden on potential jobs.
I see four main consequences from this deficit:
A lack of consolidation in our European infrastructure industries
Too little capital investment because of too meager cash flows in small or heavily regulated markets
A lack of attractiveness for capital markets to invest in infrastructure businesses and projects
A low quality of infrastructure offerings for businesses and consumers alike, which impairs our businesses' productivity and competitiveness, as well as our consumers' quality of life.
Let us take a look at examples in a number of industries:
Telecoms
In the European telecommunications market, for instance, I can understand that the EU wants regulation to take place at the European level – in order to curb national egotism and facilitate larger markets and consolidation for our corporations. Huge investments in technologies such as optical fibers and new mobile technologies are needed. But no one is going to spend their money and no one will be able to raise money on capital markets if they cannot generate the necessary cash flows!
Commissioner Neelie Kroes unveiled her plans just a few weeks ago. I do not want to give a detailed appraisal of them here. What I think is generally lacking, however, is a concept of deregulated and open single market that could allow us to accelerate market consolidation and reduce the number of providers. The US has four major mobile operators and China has three, whereas the European Union, as of 2013, has more than 50!
Banks
And what about our banks? Since the Lehman Brothers crisis, two things happened in the US: the leverage of the banking system, meaning debt as a percentage of GDP, declined by 26 percentage points to 87 percent, and regulators closed nearly 500 banks that were insolvent. Meanwhile, in the Eurozone, the leverage of the banking system rose by 16 percentage points to 128 percent of GDP, and national regulators have closed not even 30 European banks.
Hence, American regulation has managed to initiate a consolidation of the banking system and started decreasing leverage. We do not have to do everything exactly the same way they do – by no means. But we should be wary of keeping banks afloat that have too little substance to supply the real economy with credit, supervised by national regulators who have time and again failed to take tough actions.
We thus need to go ahead with building the European Banking Union, on three pillars: bank supervision located with the ECB to supervise large and internationally active banks, a central authority that will, if necessary, resolve failing banks, and a European deposit insurance. Only in this way the European financial system will be able to consolidate across borders, and eventually recover. I know it is Germany which is still hesitating on pillars 2 and 3, but they are absolutely necessary if the Euro is to survive in the long term!
Energy
Our energy policy is also not what it should be: for our businesses and consumers, we need affordable, secure and environmentally sound energy, while respecting national preferences. Let the French have their nuclear plants, and let the Germans shut theirs down, but we need coordination and regulation at the European level!
In Germany, we are currently discovering how ridiculous and expensive it is to proclaim a transition away from nuclear energy in isolation, without concerted action throughout Europe. Expanding and integrating the generation of power from renewable sources will change our power plant park and the way electricity is traded, and therefore impacts all European states. It should therefore be regulated at this level.
We need energy investment at the European level in order to boost productivity. The transition towards clean energies will change the production, transportation, distribution, storage and use of electricity across the whole of Europe. Energy will therefore remain affordable only if new, smart power grids take shape and smart distribution and storage capacity is built in a concerted manner.
We also need to ensure open competition at the European level. The time of national energy companies and grids in Europe is over – if our energy supply is to remain competitive, we need to allow consolidation and privatization at the European level and give up our parochial sense of national entitlement.
Transportation
The same applies to the transportation industries. We are currently held back by the idea that those infrastructure industries need to be controlled at the national level. Look at railways: the market is completely dominated by national operators and national track ownership. SNCB is not allowed to carry passengers on domestic journeys in France. The same obstacles also stand in the way of British, German and French railway companies. Cross-national European mergers of national operators or tracks are still unthinkable!
Similarly, it is almost unbelievable how fragmented the airline market still is. The US has five major airlines, Japan three and China has a government-controlled major airline and two private ones, while in Europe almost every country has its own flag carrier, as well as some even smaller competitors and the successful and fast-growing low-cost carriers. As a result, Asian and American airlines have posted average profit margins of 4.6 percent and 3.1 percent respectively over the past three years, compared to just 0.3 percent in Europe . We are, in other words, unable to compete with our rivals in a global business. If the European air travel industry is to provide its services to consumers and businesses at a competitive quality and price, there will need to be consolidation.
What I am getting at is this: We do not make good enough use of our vast potential as a large single market to operate more efficiently and at lower cost.
To do so, we need a European industrial policy for infrastructure that leads to open markets and more industry, and we need regulation at the European level. The outcome would be more robust and innovative infrastructure and operators that would benefit both consumers and businesses.
 The Third Pillar: European Innovation Policy
We need to create a European innovation policy if we want to keep up with the rest of the world. India and China have doubled their R&D efforts in the past five years. China spends around 220 billion dollars a year, India about 50 billion. Europe still spends more, around 350 billion dollars, but if the current high rates of growth continue, China will overtake Europe by 2019 and even the US by 2023.
If Europe is to keep pace with the front-runners in the future, it must first of all align its research policy with the mega trends which shape our world and the needs of the society of the future, such as e mobility, broadband technologies, Internet services, smart grids, networked healthcare, greentech, etc.
The European Commission must foster networks to ramp up research cooperation between member states, universities, research organizations such as the Fraunhofer Society in Germany, and businesses' research facilities. In countries where suitably equipped organizations do not yet exist, the Commission should support their launch. The EU would then organize cooperation between nation-states, encourage the mobility of researchers and ensure that intellectual property is protected.
Even for convinced Europeans like myself, it is worthwhile casting a glance at America to see how knowledge is generated there. Roughly a third of all US innovations come from two clusters: the Silicon Valley and the Boston region, where Harvard University and MIT are based. Innovations in the orbit around military research constitute a third cluster. Maybe we can learn something from the Americans:
They have succeeded in forming clusters that bring together intelligence, money and networks over the whole value chain and are big enough to craft innovations by themselves.
In these clusters, innovation takes place not in the major corporations, as it is the business model in Europe, but in start-ups. Think of Facebook, Google, Amazon and LinkedIn. They rank among the most valuable companies in the world, but twenty years ago they did not even exist!
For us Europeans this means that, to achieve economies of scale in research and development, and at the same time to develop a start-up culture and to help them grow to critical scale quickly, we must cultivate regional specializations and invest more energy in coordinating at the European level than we have done in the past.
In order to improve conditions for start-ups, we must facilitate the funding of new ideas. Europe really does lack a venture capital culture. A quick look at the figures for venture capital investments as a percentage of GDP shows that: Israel and the US lead globally with 0.36% and 0.17% respectively, while the UK with 0.04%, France with 0.03% and Germany with 0.02% do not even get close. In order to improve this, maybe as one idea, we should think about giving advantageous tax treatment to returns from early-stage investments
The Fourth Pillar: Return to the markets
Which brings me to the fourth and final pillar I mentioned at the outset: rediscovering the market economy rather than calling for ever more regulation.
Of course, we need regulation – it is a fundamental part of the social market economy, and recent experience has shown that the financial sector in particular deserves close supervision. But we must beware: regulation must always and only serve the purposes of avoiding and addressing market failures and ensuring competition, with the ultimate aim of maximizing consumer welfare.
The worst damage done by the financial crisis is that everyone is now crying out for regulation – without thinking about the need to keep a level global playing field based on fair conditions of competition around the world. This focus poses a threat to the idea and the reality of the market economy. We do not need more regulation: We need the right regulation, of the right entities, at the right level of the relevant markets, and with a view to what other countries are doing. One way of starting to rein in on overregulation would be to abolish one existing rule for every new one created!
Conclusion
On the whole, there are good reasons for optimism that the Euro zone is working its way out of the deep, dark valley. Germany and other member states have played a part in this. Hopes that the recession is over are returning even in Spain and Italy. However, despite the initial progress made in Southern Europe, we still have to further consolidate our public budgets.
And then there is the need for reforms to improve efficiency in the public sector, welfare and labor market reforms, deregulation of still regulated markets etc. The basic approach is the right one: With the help of the ECB and the rescue funds, we must buy time – and use it for structural reforms that will improve competitiveness and lead to creating a healthy banking sector, to growth and employment and to bringing down public debt.
I am not ignoring the fact that the battle we are fighting together against the crisis has pushed many people in Southern Europe to the very limits of what is bearable and, in some cases, beyond. That is why, more than ever before, we need stimulus for our internal market that underpins the reforms leading to more growth and employment, that strengthens the trust of citizens and companies alike, and that yields tangible benefits for both in real, everyday life.
King Albert II of Belgium, when he abdicated in the summer, rightly reminded us: "The European project is more than a budgetary project." To me, the unity of Europe is very important. In order to achieve that, we need to ensure the success of our economic policy.
This contribution is based on a speech that Professor Roland Berger held on October 3, 2013, in Brussels, to celebrate the 20th anniversary of their Brussels office.