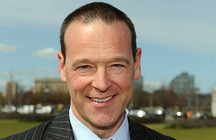 Simon McDonald joined the British Diplomatic Service in 1982 and has served in Jeddah, Riyadh, Bonn, Washington and Tel Aviv, and in a wide range of jobs in London. He took up his position as British Ambassador to the Federal Republic of Germany in October 2010.
Between 1988 and 1990, Mr. McDonald had an earlier posting to Germany when he was at the British Embassy Bonn as Second Secretary (Economic). Before becoming ambassador in Berlin, Mr. McDonald served as the Prime Minister's Foreign Policy Adviser and Head of Foreign and Defence Policy in the Cabinet Office from 2007 to 2010. From 2003 to 2006 he was British Ambassador to Israel.
Mr. McDonald is Commander of the Order of St. Michael and St. George (CMG). He is married and has four children.