After the initial presentation of the manifesto in Rome on March 23rd, it is our goal to share the manifesto throughout Europe and use it to engage Europeans of all nations in the debate about the future of Europe. We will especially aim to involve the younger generation as well as the current decision makers both on a national and the European level.
All comments and ideas gathered throughout the tour will be collected in an annex to the original manifesto, highlighting the diversity of the discussion and giving Young Europeans a voice for their ideas.
The first meetings have already been set and further ones are being organised. If you too are interested in joining the debate, or are keen to organise a debate on the manifesto in your city or in your organisation, please contact us on info@united-europe.eu
March 23rd: Presentation in Rome, Italy
March 31st: Discussion with students at SciencePo in Aix en Provence, France
April 28th: Discussion with DIRO-Network at Hotel Quirinale, Rome, Italy
May 9th: Discussion with students at Ca'Foscari University of Venice during the International week in Venice, Italy
May 15th: Discussion at Palazzo Delle Stelline, European Parliament Office in Milan, Italy
May 16th: Discussion at the Centre for Studies on Federalism, State Archive in Turin, Italy
May 17th: Discussion with the Union of Young Entrepreneurs in Parma, Italy
May 20th: Discussion at the 7th YES Conference (Confederation of Young European Entrepreneurs) in Stockholm, Sweden
May 29th: Discussion at the University of Salento in Lecce,Italy
June 2nd – 4th: Young Professionals Seminar in Amsterdam, Netherlands
June 20th: Discussion at the University of Münster in Münster, Germany
June 27th: Presentation and Panel debate at the Italian Embassy in Berlin, Germany
June 29th: Moving the EU forward – Presentation of the Manifesto at the Vigoni-Forum in Como, Italy
August 26th & 27th: Open Day at the German Federal Foreign Office in Berlin, Germany
October 20th: Presentation at the Representation of the European Commission in Milan, Italy
November 20th: Presentation at Bocconi University, Milan
November 27th: Final Presentation at the European Parliament, Bruxelles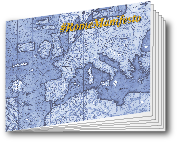 If you are interested in attending any of the above events, or would like to help us organise an additional event, please get in touch with us on info@romemanifesto.eu
Supporters of the proposals can sign the Rome Manifesto online. For twitter updates, please follow #RomeManifesto.